Boolean Board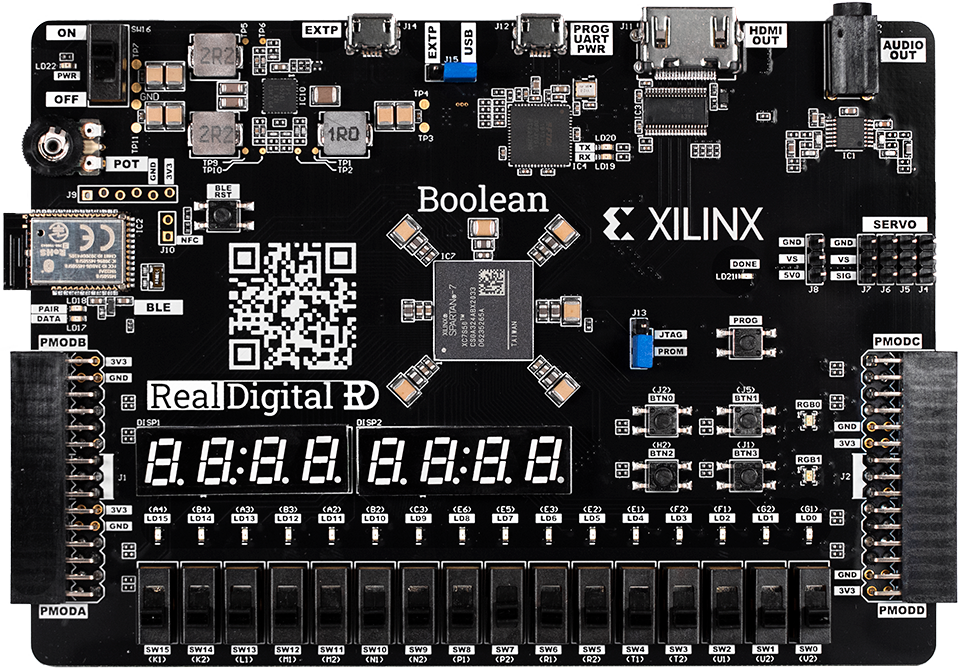 The Boolean board is an educational platform built around a Xilinx Spartan-7 FPGA. It includes a large collection of peripheral devices and ports, allowing countless designs to be built without the need for any other components. A single USB port that provides power and a programming port allows the board to integrate seamlessly with the Xilinx Vivado design tools. Board features include:
A Xilinx Spartan 7 XC7S50 FPGA
A USB port for power & programming
An on-board Bluetooth Low Energy radio
An HDMI source port that can drive up to 1080p
An on-board analog-to-digital converter
A large QSPI ROM for storing FPGA configurations and user data
Four servo connectors (conventional or continuous rotation)
An 8-digit seven-segment display
A large collection of buttons, switches, and LEDs
Four Pmod®-compatible expansion connectors
The Boolean Board Digital Logic course is a first-semester course presented as a series of hands-on design projects. Projects progress from simple logic circuits to complex systems, and each project includes background reading materials, design problems and in-depth tutorials. By the end of the course, students can design, simulate and implement combinational and sequential circuits using Verilog and an FPGA.