Topic: VGA to HDMI
Step 1: Download hdmi_tx IP and add it to repository
Download HDMI/DVI IP Core, unzip it. Then click on the IP catalog as shown in figure 1.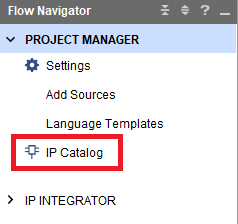 Next, right click on Vivado Repositories and select add repository. Choose the HDMI_tx_1 folder that you downloaded and unzipped. Press ok.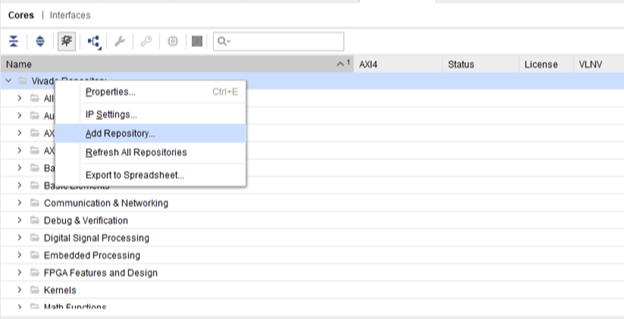 You'll see that a repository was added. Double click on the hdmi_tx IP

Customize IP dialog appears, set the parameters as shown. You may configure the color data widths to be smaller at first (you can re-configure the IP later by double clicking on it in your project file folder). Then press OK.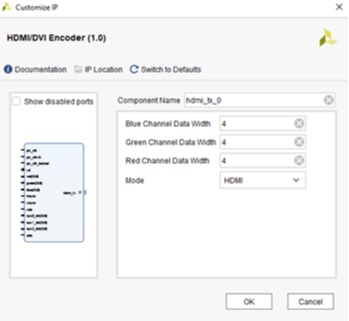 Generate output products dialog appears. Press "Generate".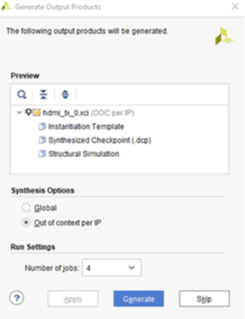 Verify that the IP block appeared to your design sources.

Step 2: Add Clocking Wizard IP
Since HDMI requires high speed clock frequency, you will use Clocking wizard to generate 25MHz and 125MHz clock frequencies. Go back to IP Catalog, and search for Clocking Wizard IP. Double click on the "Clocking Wizard"

Customize IP dialog appears for the clocking wizard. Select output clock tab and set frequencies for the output clocks as shown below. Press ok and generate output products. You will notice that Clocking wizard IP was added to the sources folder as well.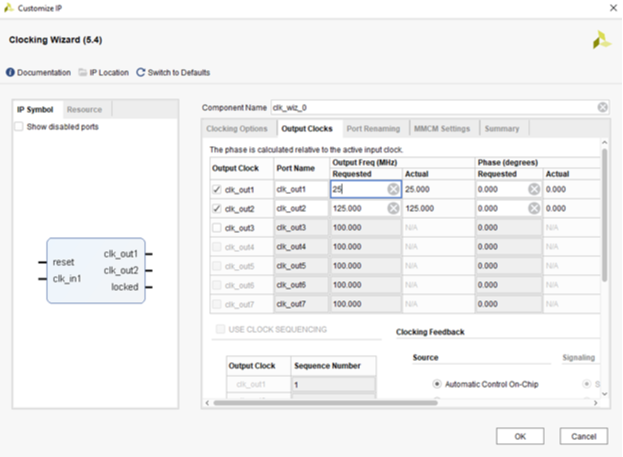 Step 3: Combine vga_controller module, hdmi_tx, and clocking wizard
To use these IP's that you added, use the following code in your main WRAPPER file to tie these clocks into the system. Remember that pix_clock is 25MHz clock and pix_clkx5 is 125MHz. Make sure that you make the connections with the rest of the system properly.
clk_wiz_0 my_clock_wizard(
    

// Clock out ports


    

.clk_out1

(pix_clk),       

// output clk_out1


    

.clk_out2

(pix_clkx5),     

// output clk_out2


    

// Status and control signals


    

.reset

(rst), 

// input reset


    

.locked

(locked),       

// output locked


   

// Clock in ports


    

.clk_in1

(clk)  

// input clk_in1


);     

hdmi_tx_0 my_hdmi (
  

.pix_clk

(pix_clk),                

// input wire pix_clk


  

.pix_clkx5

(pix_clkx5),            

// input wire pix_clkx5


  

.pix_clk_locked

(locked),          

// input wire pix_clk_locked


  

.rst

(rst),                        

// input wire rst


  

.red

(red),                        

// input wire [3 : 0] red


  

.green

(green),                    

// input wire [3 : 0] green


  

.blue

(blue),                      

// input wire [3 : 0] blue


  

.hsync

(HS),                       

// input wire hsync


  

.vsync

(VS),                       

// input wire vsync


  

.vde

(vde),                        

// input wire vde


  

.aux0_din

(

4'd0

),                  

// input wire [3 : 0] aux0_din


  

.aux1_din

(

4'd0

),                  

// input wire [3 : 0] aux1_din


  

.aux2_din

(

4'd0

),                  

// input wire [3 : 0] aux2_din


  

.ade

(

1'd0

),                       

// input wire ade


  

.TMDS_CLK_P

(TMDS_CLK_P),          

// output wire TMDS_CLK_P


  

.TMDS_CLK_N

(TMDS_CLK_N),          

// output wire TMDS_CLK_N


  

.TMDS_DATA_P

(TMDS_DATA_P),        

// output wire [2 : 0] TMDS_DATA_P


  

.TMDS_DATA_N

(TMDS_DATA_N)          

// output wire [2 : 0] TMDS_DATA_N


);